MD/DO Referrals
At Advantage Chiropractic Centers, we believe that the medical profession and the chiropractic profession are on the same team. Our goal is to bridge the gap between our professions. When we work together and communicate, our practice members benefit.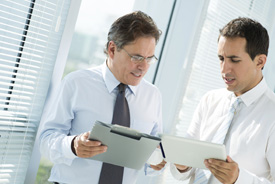 We treat all medical referral patients as our guests.
Our primary goal is to achieve maximum medical improvement. If a patient is not responding to care, they will be referred back to your office.
Our doctors will not offer any advice on immunology or pharmacology. We consider these areas of expertise outside of our scope of practice. All questions will be re-directed toward the referring physician.
We look forward to a strong referral relationship and playing a supportive role in your patient's health.
Making the Referral
Call and schedule same day appointments: (724) 775-0600
Request an appointment here on our website: Schedule Now!
Patient records can be faxed to our office: Fax: (724) 775-6775
Coming together is a beginning.
Keeping together is progress.
Working together is success.
– Henry Ford
---