Back Pain? You Need a Chiropractor.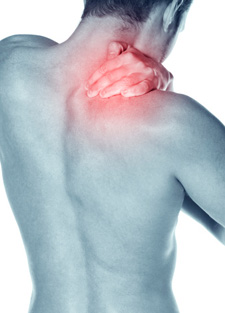 You are uncomfortable. It hurts to breathe. You've lived like this for months maybe even years. The doctors say back surgery is your only answer. Then, someone told you to look into chiropractic. You've come to the right place. At Advantage Chiropractic Centers, we understand your pain and we can help.
What Causes Back Pain?
The causes of back pain are countless. In today's world, we're surrounded by physical and mental stresses that can result in lower back pain, upper back pain and sciatica pain. Your back pain may be caused by a spinal condition, such as:
A pinched nerve
A herniated disc
Spinal stenosis
You may have chronic back pain that has been bothering you for years, or acute back pain caused by a new injury. Naturally, you're seeking help to relieve your pain, so you can live the active life you want.
Chiropractic Can Help
Chiropractors are well-known for being back pain doctors. Their training involves extensive studies of human anatomy and the spine. A chiropractor will remove misalignments from your spine that are causing your symptoms of pain to give you back pain relief. A chiropractic adjustment can use several different techniques that will be suited to your age and condition to relieve back pain.

Back Pain Home Remedies
Back Pain Stretches and Exercises
Stretches and exercises for back pain can assist in your healing process and give you much-needed pain relief. Your chiropractor can give you exercise and stretches that are specifically tailored to your problems. A thorough consultation and examination will give your chiropractor the information needed to customize a stretching and exercise program to your needs. This customization ensures that you won't injure yourself by doing exercises that would further damage your problem area.
Should I Apply Heat or Cold for Back Pain?
If you're seeking relief before seeing your chiropractor, the proper use of heat and cold are determined by the nature of your problem. If your back pain is a chronic problem that you've had for years, a heat pack may help. For new back injuries, applying cold to the problem area will help cool down the inflammation.
Local Chiropractor in Beaver